WHY RELY?
Because we are one of only a few chauffeured services to offer customizable 3-TIER SERVICE CLASS options that are right for you! Whether you're looking for the most cost-effective ride or the ultimate luxury experience with green hybrid options, we have you covered. Explore our UPPER CLASS - BUSINESS CLASS - GREEN CLASS services.
For 25 years, Rely Limo has provided award-winning chauffeured services with innovative transportation solutions tailored to client needs. Choose your service level. We guarantee the best-qualified chauffeurs, dedicated staff and the most advanced operating technology—all at competitive prices. And if you have special requirements, just let us know. We're your "one-stop-shop" travel specialist with carefully-selected partners worldwide.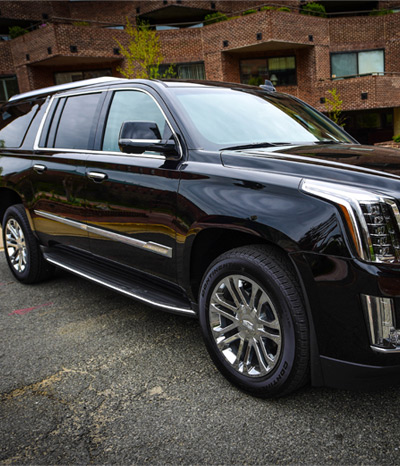 UPPER CLASS – LUXURY SERVICE
ROLL OUT THE RED CARPET
Luxurious vehicles including green hybrids
2015 Fleet and up! Lincoln Navigator, Cadillac XTS and Escalade, Lexus, Mercedes, BMW, luxury Sprinter vans and more
Airport meet/greet and personalized pick-up options
Full amenities on board
Full curbside and bag etiquette
Trained chauffeurs and certified pros with minimum 5 years' experience
Concierge services
–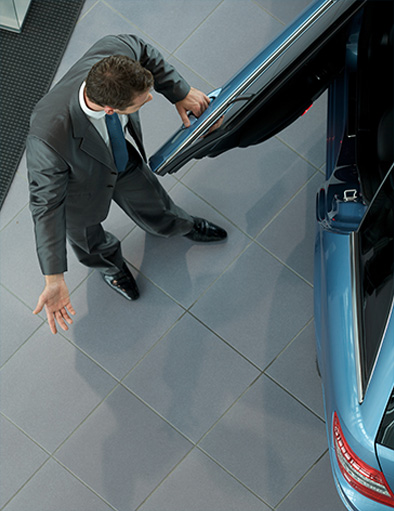 BUSINESS CLASS – ECONOMY SERVICE
PERFECT FOR BUSY TRAVELERS ON A BUDGET
Like UBERX, but we are TCP-licensed with commercial insurance
Comfortable vehicles at affordable rates
KIA Soul/Sedona minivans, Hyundai Sonata, Toyota Prius, 2010-2014 Lincoln towncar, Chevy SUV, suburban and more
Book pre-scheduled trips – Book online – Call in – Use our app
Quick, reliable airport curbside pick-up
Clean vehicle, on time, water amenity, curb meets, DIY luggage
Pay with cash or credit card
No surcharge pricing
Driver does not weat a suit – casual only
Friendly, trained CDL drivers
–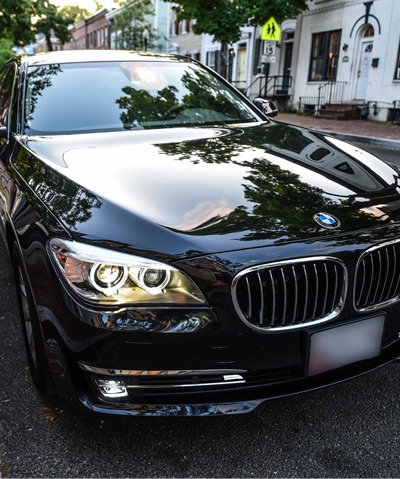 GREEN CLASS – HYBRID SERVICE
NO FUEL CHARGE!
Reducing our carbon footprint
Meets your corporate eco-friendly program
Hybrid and alternative fuel vehicles
Quick, reliable airport curbside pick-up service
24 HR SERVICES
800 760 3555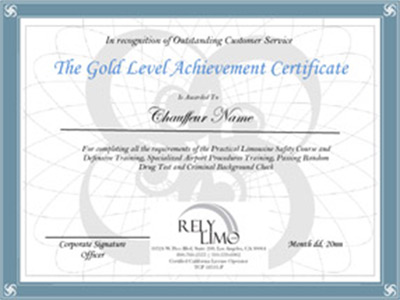 "THE GOLD LEVEL ACHIEVEMENT CERTIFICATE"
THE RELY LIMO TEAM
Your safety is our first concern. All Rely Limo chauffeurs have been thoroughly trained and are background-checked and drug-screened. Our Upper Class chauffeurs are also "Gold Level Certified," a status recognized within the chauffeured transportation industry.
Our safety objective is to provide a safe and healthy working environment for our chauffeurs and clients. We believe accidents can be effectively controlled and the occurrence can be reduced, therefore accident prevention is an integral part of the operation of our business.
We provide exclusive training and screening for all our chauffeurs. To earn "The Gold Level Achievement Certification," chauffeurs must have a 92% pass test ratio.