HOURLY CHARTER & POINT TO POINT CHAUFFEURED SERVICES,
LOS ANGELES & WORLDWIDE, FOR BUSINESS OR LEISURE
ABOUT RELY LIMO
At Rely Limo, our objective is to earn your trust and become the company you rely on for a safe ride in Los Angeles and many other cities nationally and worldwide. Your safety and satisfaction are our highest priorities. Our carefully-assembled team of chauffeurs attend safety and client-relations training throughout the year, so you can be sure that your transportation will be safe and comfortable.
100% PERFORMANCE GUARANTEE
I'm John Litchfield, founder and CEO of Rely Limo. My professional life began as a teenager in London, England. After the required apprenticeship, I became a top London hair-stylist to many famous stars and owned five exclusive salons in London. During those days, I learned an invaluable lesson, namely, the ultimate importance of service and client satisfaction. From the earliest age, I learned that if my client wasn't happy with the service or how she looked, she was not coming back!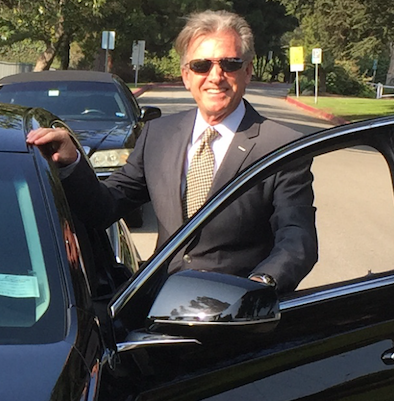 John Litchfield
Founder and CEO of Rely Limo
Once relocated in Los Angeles, I founded an employment agency, which grew to several offices throughout Southern California, employing some 1800 employees daily. With Fortune 500 companies amongst our client roster, I trained my staff to rely on those same early lessons that I learned in London––success is all about service and client satisfaction. If my temporary helper couldn't do the job, I didn't get paid!
About 25 years ago, I identified that many of our clients were looking for reliable executive transportation services, so I spun off our first executive transportation business. I have never lost sight of those first lessons I learned…
THIS IS WHY AT RELY LIMO, WE OFFER A 100% PERFORMANCE GUARANTEE OR THE "RIDE'S ON US!"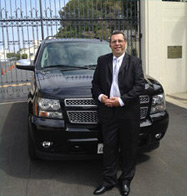 Carlos H. Feldman
Principal and Operations Manager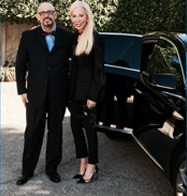 Ernie Carmona
Principal with valued client
OUR PROMISE
PROFESSIONALY-TRAINED CHAUFFEURS PROVIDING:
Confidential, courteous, safe and professional service
A vehicle on time
A vehicle clean and well-maintained
Learn more about Rely Limo's "Core Operating Values" and how we deliver special client services together with 100% client satisfaction